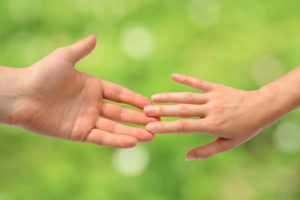 I teach the women's Bible study group at my church and have for over 10 years. We have prayed for each other weekly during all that time and have seen miracles. But there is one recent miracle that I will never forget.
Alice is one of our long-time members. A delightful, feisty, funny, fighting daughter of God. She's in her 80s but always had great physical health and is still a caretaker for the sick. But then she got sick with severe altitude sickness — which is ironic since she's lived in the mountains for years.
One of her symptoms is severe nosebleeds. A couple of Tuesdays ago she came to Bible Study as usual, but she was only there for five minutes before she excused herself to go to the church bathroom because her nose started to bleed.
I went on with the lesson. We noticed that she hadn't come ming back, and so one by one members of the Bible study quietly got up got up to check on her. Every time they came back with the same report: "She says she'll she's all right but her nose still bleeding." I finished teaching the lesson and it was time for intercessory prayer.
Now it was my turn to get up. "Come on," I said. "We're going to lay hands on Alice." So moving at my usual high rate of speed, I strode towards the women's bathroom. The rest of the Bible study group, about a dozen women, got up and followed me.
When we arrived, Alice was bent over the counter holding a paper towel to her nose, which was dripping blood. I said, "Alice dear, we're going to lay hands on you." She couldn't talk because of all the blood, so she just nodded. I put my arm around her shoulders, and the whole group clustered together in the small bathroom and held hands. It wasn't so much of a prayer circle as a prayer oblong. And we all prayed that God stop that nosebleed.
Charlie, one of our members, insisted on driving Alice to urgent care. We walked her out to the car to wave goodbye, then went back to the church to pray for one another.
That next Sunday, I was standing outside in the parking lot with my son who was visiting for Mother's Day. Alice walked up. I hugged her. "How are you? How is your nose?"
She smiled widely. "I went to urgent care with Charlie. But the moment that you prayed for me the nosebleed stopped. I told the doctor that I was sorry to waste his time because the Bible Study already fixed my nosebleed with prayer."
Praise God for answering desperate prayers prayed in the trenches — including bathrooms!