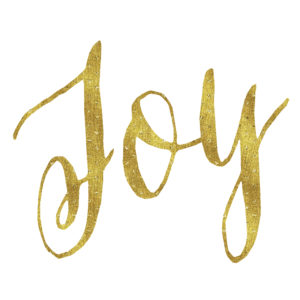 Christian joy is HUGE. We could talk about joy until the cows come home — come to think of it, that might not be a bad idea. We will never experience joy until we walk into heaven, but we can experience joy in this life both things go well and when they most decidedly do not.
However, while joy comes more easily to some it comes harder to others. I'm in that camp. I've been a Christian all my life. I'm not an unhappy person. I'm not depressed, and I control lifelong stress and anxiety with medication. And I still have trouble understanding Christian joy, even though Nehemiah said, "The joy of the Lord is your strength." (Neh. 8:10)
So being unable to figure it out, I immediately set about teaching it to my Bible study! I know that sounds strange, because most good Bible teachers of adults teach something that they know well and are good at. God uses the skill and blessing that he gave them to teach other believers.
Or — and this is an awful lot more humbling – – God puts something on your heart to teach even though you're not very good at that thing. You need to study it and learn it, and sometimes you feel like a fool for not knowing it better. But you know that God is given you this to do.
Joy is one of those rough subjects for me. Here's the blessing of teaching it: I'm forced to go to the Bible to study joy, and as I understand more of it I recognize when it has happened in my life. I also better understand how to move forward in trust and service, for these and the love of God are the paths to joy. I know I am nowhere near where I can be but I am going where God will give me the grace to be.
Christian joy can be hard to understand because it is not the same as happiness, and it does not depend on happy events to occur. Life is tough! We live in a fallen world. But here's the source of joy even in the worst of it: that even when bad things happen to you — and they will — God will work even those things into goodness and strength.
You may be going through a natural disaster, bankruptcy, a business loss, a death or divorce, failing school, serious illness. God however gives us strength for the journey, and if we trust him and accept that strength we will feel joy again. And then one day when we die we will pass over to His kingdom to a new heaven and a new earth, where we will live forever in perfect joy. No matter how bad it gets, we are safe here and we are going home. Now THAT is joyful.
Where is Your Joy?
"Circumstances have a way of conspiring to leech the joy right out of our days. Even though we know joy is our rightful heritage from the Lord, we live as if we have never known joy's presence. We long for joy as if it were something far off and unobtainable. But joy isn't a matter of receiving something new, but of discovering what has always been there. For believers, sometimes discovering joy is simply a matter of opening our eyes to a new way of seeing." (Max Lucado, Contagious Joy)
There are several life circumstances that can rob us of our joy if we let them. Or we can come to even deeper joy by trusting and loving God through them.
9 "As the Father has loved me, so have I loved you. Now remain in my love. 10 If you keep my commands, you will remain in my love, just as I have kept my Father's commands and remain in his love. 11 I have told you this so that my joy may be in you and that your joy may be complete. (John 15:9-11)
Joy When You're Struggling Towards Something
1.      The Journey to Jerusalem
The psalmist sings the Songs of Ascent from Psalm 120 to 134. The song celebrates and encourage the Jewish pilgrim as he travels from the outskirts of Israel or Judah to Jerusalem. It is a blessed journey but a hard one, and the Psalms encouraged the travelers to keep going until they reached the gates of the great city.
4 Restore our fortunes, Lord,
like streams in the Negev.
5 Those who sow with tears
will reap with songs of joy.
6 Those who go out weeping,
carrying seed to sow,
will return with songs of joy,
carrying sheaves with them. (Ps. 126:4-6)
The Negev is a wilderness south of Israel. For most of the year it barely supports any life at all. But during the feast of Tabernacles when the autumn rains come, the wilderness bursts with green life and flowers.
 "The LORD will surely comfort Zion and will look with compassion on all her ruins; he will make her deserts like Eden, her wastelands like the garden of the LORD. Joy and gladness will be found in her, thanksgiving and the sound of singing." (Is. 51:3)
Question: Do you have a situation in your life where you are struggling to achieve something? You may feel as if you planted something and have not yet harvested. God blesses perseverance but he also promises the harvest. How can you rediscover your joy in God during a struggle or wait?
The Journey to Search for the Star
The Wise Men, or Magi are only mentioned in Matthew. The Bible doesn't say how many of them there were. Traditionally we picture three men because there were three gifts: gold, frankincense, and myrrh.[1] There were almost certainly servants and perhaps guards traveling with them. They may or may not have arrived on the night of Jesus' birth, but they did arrive sometime before Jesus was 2.
They were from the east, literally "from the rising of the sun." They might have been Persian or Babylonian, they were certainly astrologers. Unlike our day when astrology is part of the occult, in their day they considered it a science.
After Jesus was born in Bethlehem in Judea, during the time of King Herod, Magi from the east came to Jerusalem 2 and asked, "Where is the one who has been born king of the Jews? We saw his star when it rose and have come to worship him."
3 When King Herod heard this he was disturbed, and all Jerusalem with him. 4 When he had called together all the people's chief priests and teachers of the law, he asked them where the Messiah was to be born. 5 "In Bethlehem in Judea," they replied, "for this is what the prophet has written:
6 "'But you, Bethlehem, in the land of Judah,
are by no means least among the rulers of Judah;
for out of you will come a ruler
who will shepherd my people Israel.'"
9 After they had heard the king, they went on their way, and the star they had seen when it rose went ahead of them until it stopped over the place where the child was. 10 When they saw the star, they were overjoyed. (Mt. 2:9-10)
At this point they were still searching by following the star. This was no intellectual exercise for them. They had left comfortable homes, gone a long way across dangerous lands to follow that star. And when they found it, they rejoiced!
God promises us that He will fulfill the deep desires of our heart if we have put him first. Take delight in the Lord, and he will give you the desires of your heart. (Ps. 37:4) Note this is not just any desire no matter how much you want it. The deep desires of the heart are those things that He has given us to pray for, to follow in His will. A deep desire of your heart is also your star that He has given you to follow. Many times these journeys are hard and they are long. Journeys to meaning, to reconciliation, to spiritual growth in Christ, to a long-held vision and miracle.
Question: How do you retain joy in the long journey?