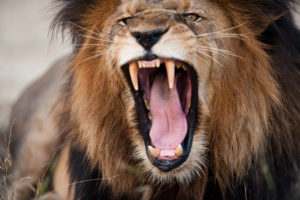 This is the 2nd part of The Three Great Miracle of the Christian Life. Part 1 "New Creatures in Christ" is here.
So accepting Christ is the first of the great miracles of Christian faith. The second one – – and this may sound a little surprising – – is war. All out, violent, life-and-death spiritual battle.
Peter – you know, the Rock on which God built the Church — wrote, "Be alert and of sober mind. Your enemy the devil prowls around like a roaring lion looking for someone to devour." (1 Peter 5:8)
It doesn't do any good to pretend that you're not in the thick of it. If you accept Christ, then Satan is going to attack you. He's going to try to get you to deny Christ, and if he can't do that then he's going to tempt you out of living life the way Christ wants you to. And if you can't do that, he's going to attack your holy influence with other people.
I this all sounds really scary, and it would be, except that the Bible tells us we are more than conquerors through Jesus Christ. In His power, we can kick Satan's you-know-what.
No, in all these things we are more than conquerors through him who loved us. For I am convinced that neither death nor life, neither angels nor demons, neither the present nor the future, nor any powers, neither height nor depth, nor anything else in all creation, will be able to separate us from the love of God that is in Christ Jesus our Lord. (Romans 8:37-38)
So God's people are under attack. Instead of crying about it, fight back! Fight back against temptation. Fight back against your own sin. In fact, look to your own sin before anyone else's. Fight back in the power of God against hatred, against pride, against self-righteousness, against blame. Fight back with love, forgiveness, prayer, crying out to God to forgive you your sins, and to strengthen you for those tasks he has given you to do.
Use the spiritual gifts that God gave you. When you have the gift of administration and you are managing a Christian project for the sake of Christ, you are beating back the powers of hell. When your gift is preaching or teaching you are's stifling demonic activity. When your gift is healing, you are fighting as God's warrior in the physical realm.
This is not metaphorical. It's real. When you are serving God, no matter how humble it appears to at the time, you are fighting evil in the power of God.
Let's look at a story from the New Testament where a demonic spirit tried to stop Paul and Silas from preaching, and how they fought back in the power of Christ.
Story: Paul and Silas in Prison – Acts 16
[They were in Philippi] Once when we were going to the place of prayer, we were met by a female slave who had a spirit by which she predicted the future. She earned a great deal of money for her owners by fortune-telling.  She followed Paul and the rest of us, shouting, "These men are servants of the Most High God, who are telling you the way to be saved." She kept this up for many days. Finally Paul became so annoyed that he turned around and said to the spirit, "In the name of Jesus Christ I command you to come out of her!" At that moment the spirit left her.
When her owners realized that their hope of making money was gone, they seized Paul and Silas and dragged them into the marketplace to face the authorities. They brought them before the magistrates and said, "These men are Jews, and are throwing our city into an uproar by advocating customs unlawful for us Romans to accept or practice."
The crowd joined in the attack against Paul and Silas, and the magistrates ordered them to be stripped and beaten with rods. After they had been severely flogged, they were thrown into prison, and the jailer was commanded to guard them carefully. When he received these orders, he put them in the inner cell and fastened their feet in the stocks.
About midnight Paul and Silas were praying and singing hymns to God, and the other prisoners were listening to them. 26 Suddenly there was such a violent earthquake that the foundations of the prison were shaken. At once all the prison doors flew open, and everyone's chains came loose. The jailer woke up, and when he saw the prison doors open, he drew his sword and was about to kill himself because he thought the prisoners had escaped. But Paul shouted, "Don't harm yourself! We are all here!"
The jailer called for lights, rushed in and fell trembling before Paul and Silas. He then brought them out and asked, "Sirs, what must I do to be saved?"
3 They replied, "Believe in the Lord Jesus, and you will be saved—you and your household." Then they spoke the word of the Lord to him and to all the others in his house. At that hour of the night the jailer took them and washed their wounds; then immediately he and all his household were baptized. The jailer brought them into his house and set a meal before them; he was filled with joy because he had come to believe in God—he and his whole household.
Paul and Silas did not lose to the demonic activity. They won through the power of God. And so can you. Every single day.